Shroud of Turin:
The Controversial Intersection of Faith and Science

Conference
October 9-12, 2014
Drury Plaza Hotel
St. Louis, Missouri
---
An international conference titled, Shroud of Turin: The Controversial Intersection of Faith and Science, was held in St. Louis, Missouri, on October 9-12, 2014, at the Drury Plaza Inn in Chesterfield. The event was co-sponsored by the Resurrection of the Shroud Foundation and the Salt River Production Group and the Chairman of the Organizing Committee was Joseph Marino. The event was truly international in scope, with speakers and attendees from around the world representing Australia, Canada, England, France, Hong Kong, Italy, Panama, Spain and the United States. More than 160 attendees sat through full days of presentations on a wide variety of topics and remained attentive and dedicated throughout. For a more detailed review of the event, you can read A Personal Report on the 2014 St. Louis Conference by Barrie Schwortz.

Although the Official St. Louis Conference Website (which includes a public Discussion Forum) is still online, it will be taken down on or about January 2016, after which it will no longer be available, so the organizers decided to have the conference materials permanently archived here on Shroud.com and the result is this page, which we tried to keep as compact as possible. The page currently includes most of the papers and presentations that were made, as well as links to abstracts, photos and all the available video clips (thanks to Russ Breault and his new Shroud University YouTube page of St. Louis Conference videos) and we will add any remaining papers should they become available. The presentations are listed below in the exact order in which they were given at the conference. This differs slightly from the printed program due to some last minute rescheduling during the event. Click on the linked name of any person on the page to see a high quality photo of that presenter. All photographs are ©2014 STERA, Inc. unless otherwise noted.
---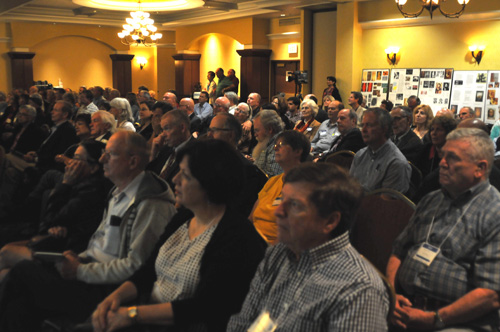 Attentive St. Louis Conference audience during Shroud Encounter opening presentation by Russ Breault
Thursday, October 9, 2014
---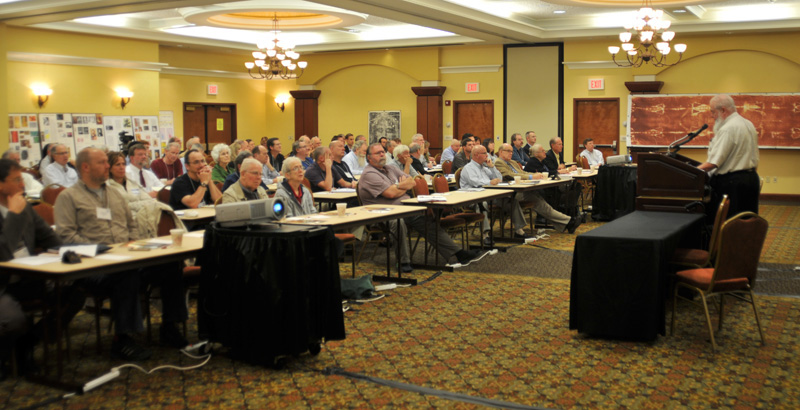 The conference begins in earnest
---

(L to R) Carolyn Scavone, Joe Marino, Dr. Andrew Silverman, Daniel Langsman, Thibault Heimburger, Michela Marinelli, Diana Fulbright, Emanuela Marinelli, Mark Kemna, Jeffrey
Skurka, William Meacham, Mark Borkan, David Onysko, Richard Orareo and Russ Breault enjoy some relaxing moments on Friday evening, after the first full day of the conference.
Saturday, October 11, 2014
---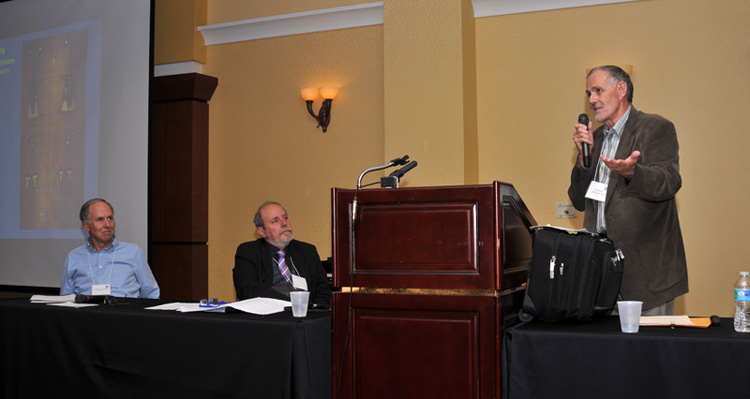 Robert Siefker, Bruno Barberis and John Jackson during Saturday night's Open Discussion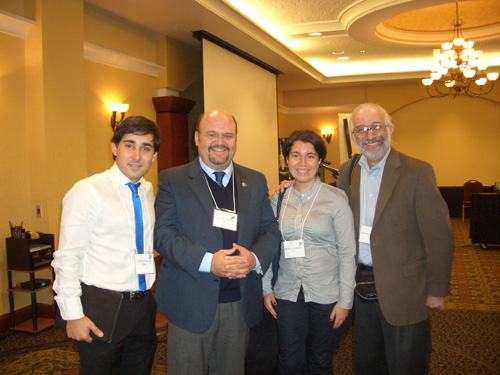 Carlos Molina and Jorge Almenar (CES - Spain), Michela Marinelli (Italy) and Barrie Schwortz enjoying a break in the conference
©2014 Emanuela Marinelli
---
---
Copyright Notice
Access to this site does not grant any rights to copy, publish, sell, license or distribute any included materials, in any form or media, without the expressed written permission of the individual copyright holders. Editorial opinions expressed herein are solely those of the respective authors.
---
---